Dhul Hulayfah Masjid - 3D Virtual Tour
Dhul Hulayfah Masjid virtual tours can be started by clicking the preview window or by downloading the stand-alone versions. Just drag the mouse to the direction you want to look. Use the scroll wheel to zoom at the details. Press F9 to get a list of the 3D sites you downloaded (residing in the same directory). To install the listed sites as a screensaver press F5. Our advise is to install all the sites, including Dhul Hulayfah Masjid, as a screensaver. When the screensaver starts, a random site is chosen and shown around automatically (this gives the impression of looking at a documentary in HD quality). To see the usage of other keys press F1. Press Ecs to exit.

———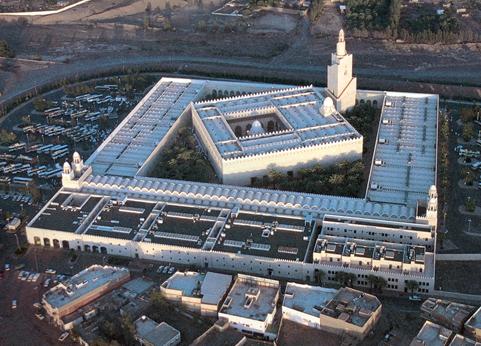 Miqat mosque (Masjid Meeqat) is located at Dhul Hulayfa, at the western side of Al-Aqeeq Valley at a distance of twelve kilometers from The Prophet's Mosque. It is the place where pilgrims coming from Medina wishing to perform Umrah or Hajj enter into ihram before they set for Mecca.
It was first built during the time of Umar bin Abdul Aziz as governor of Al-Madinah (87-93 A.H./706-712 A.D.) and renovated several times afterwards, the last of which was during the time of the Custodian of the Two Holy Mosques, King Fahd bin Abdul Aziz, who ordered its area to be increased several times and to be provided with necessary facilities.
The mosque was built in the shape of a square on an area of 6000 m². It consists of two sets of galleries separated by a wide yard of 1000 m². The galleries are shaped as arches ending with long domes. The mosque has a distinct minaret, square at the bottom but round at the top in a diagonal shape. It rises to a hight of 64 m.
Attached to the mosque are the washing, ablution and ihram clothes waring facilities. It also has a large parking lot.
Source: Al-Madinah Al-Munawwarah Research & Studies Center


This work is part of a project we did in the Holy Lands, as invitees of al-Madinah Municipality.
We would like to thank the Municipality workers for their valuable contributions.
Without their support, this would not have been possible.